Happy Valentine's Day!
I've got my red on, my Valentine's delivered and my red food packed and ready for what can only be described as THE BEST HOLIDAY EVER!!!
Granted, the day would be about a thousand times better if we had the day off, but I feel that way about my birthday and St. Patty's Day as well...But to celebrate this illustrious day of red and chocolate, I hosted the 24th Annual Red Meal! This year was potluck style with competitions for best use of red ingredients and best use of hearts. My
"Have a Heart Pop Tarts"
were beaten out for the best use of hearts (they were heart-shaped with strawberry and nutella filling...mmmmm) by Jerry with his "Commie Soup" (so named because it was "red") which had, I kid you not, heart-shaped vegetables floating in it.
I also forced everyone to make "disgruntled Valentines." My favorite, you ask?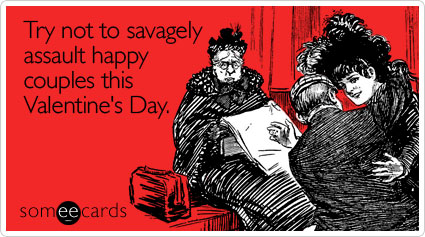 Oh, someecards, how I love you.
The Washington Post is also running a series of "DC Valentines" that I also heart.
I also appreciated Devon's creation based on
these
:
These stickers make eating fruit totally worth it (and make my banana look slightly less forlorn). I have crafty, amazing friends.
Happy Valentine's Day!!!